What is OCCAM?
The acronym OCCAM stands for "Outcomes and Causal Inference in International Comparative Assessments" in educational research. OCCAM is a European Training Network (ETN) which is a sub call in the Marie Skłodowska-Curie Innovative Training Networks (MSCA ITN) of the European Commission's Horizon 2020 framework. ETNs are networks which form a structured, international, intersectoral, and interdisciplinary research and training environment for PhD students (read more on MSCA ITN ETNs).

OCCAM's EU funding adds up to 3.89 million Euro between 2018 and 2022.
---
Research Objectives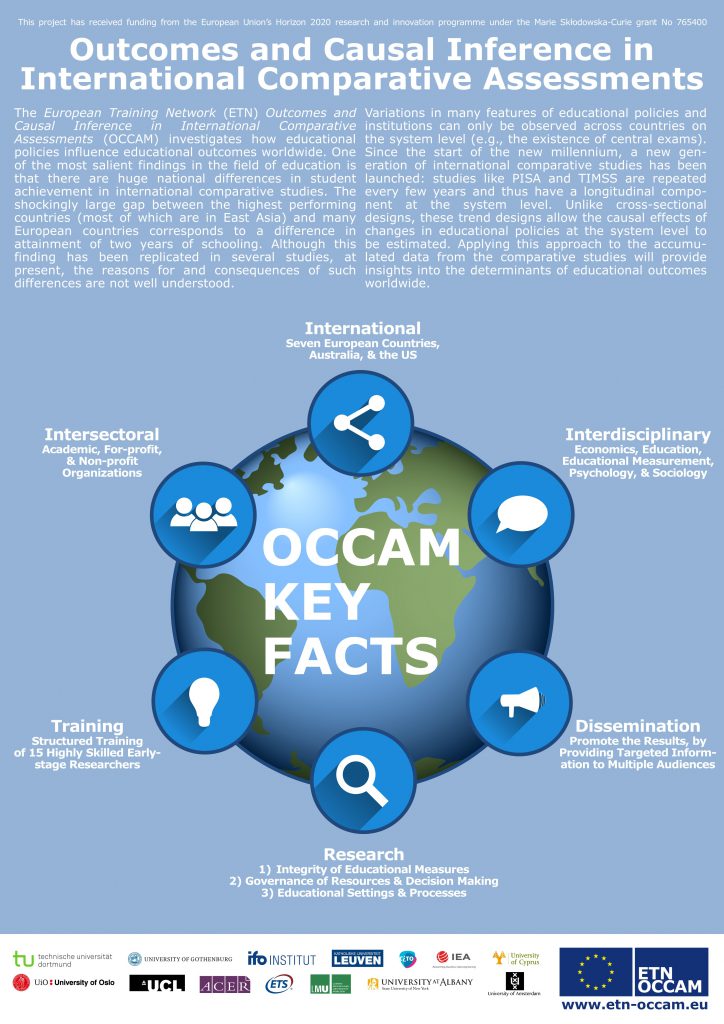 The overarching research objectives are investigated in 15 early-stage researcher projects (read more on the PhD projects).
The OCCAM research is captured in the first three structured work packages. The others further cover organization, training, dissemination, and ethics:
The Integrity of Educational Outcome Measures
Governance of Human and Financial Resources and Decision Making
Educational Settings and Processes
Network Organization, Recruitment & Finances
Thematic, Methodological & Complementary Training
Communication, Dissemination, & Exploitation
Ethics Requirements
---
The OCCAM Network
OCCAM provides an ideal environment for training these 15 PhD students to become leading experts in educational policy evaluation, international student assessments, and educational and policy consulting. They will receive interdisciplinary and -intersectoral training, and their individual research projects promise groundbreaking new knowledge on how to design fair and efficient educational systems (read more on OCCAM training and dissemination).
For this  purpose, OCCAM integrates the complementary expertise from 56 senior researchers from 14 academic and non-academic partners (read more on the OCCAM consortium). The combination of non-profit and for-profit organizations ensures the employability and entrepreneurship of the early-stage researchers.
Nine Beneficiaries
Five Partners
Nine Countries